Back to all violins
Drag to enlarge
Click to enlarge


violino, 2004 - Aurora
Greta Shoedl
artista
Acero: senza marezzatura
Abete: venatura media, marcata e regolare
Vernice: trasparente brunita
Intervento: china e resina dorata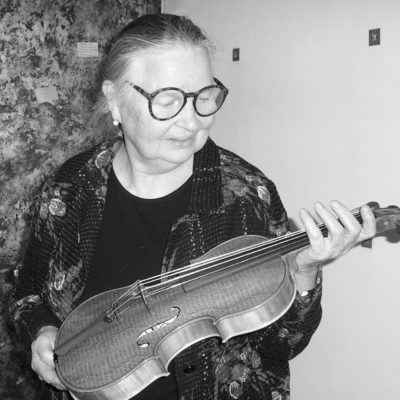 Greta Schödl
Nata a Hollabrunn in Austria, ha studiato all'Akademie für Angewandte Kunst a Vienna
premio Akademie Preis.
Vive a Bologna. Produce libri di poesia visuale.
Mostre Personali
1975 LYC Museum Bramptom, England
1975 Galerie Basilisk, Vienna
1975 Galleria Fabybasaglia, Bologna
1980 Galleria Incontro, Imola
1982 Gall. Il Luogo dell'immagine, Roma
1983 Neue Galerie Wien, Vienna
1984 Galerie Carinthia, Klagenfurt
1986 Il Brandale, Savona
1988 Galleria Selearte 1, Padova
2001 Galleria Paolo Nanni, Bologna
Mostre Collettive
1978 Concret e Visual, War Memorial Gallery Sidney
1978 Biennale di Venezia Mercato del Sale
1978 Concrete e Visuale, Natonal Gallery Melbourne
1979 From Pace To Space Colombia University N.Y.
1980 Oxfor Poetry Festval, St Michaels Hall
1981 4° Biennale Di Medellin, Columbia
1981 Biennale di S Paolo del Brasile
1982 Arteder '82 Bilbau, Spagna
1982 Fil-Sophia Sala Parpalò, Valencia
1985 Il Non Libro, Biblioteca Centrale di Palermo
1989 Far Libro, Forte Belvedere, Firenze
1990 Il Librismo, Cagliari
1990 Volumnia, Rocca Roveresca, Senigallia
1990 Ex Esprimental and visual poetry eysk, Usrs
1991 Le Art in Carta, Riolo Terme
1996 Ascoltare L'immagine, Pal. Mediceo, Serravezza
1998 Post Scriptum, Palazzo Massari, Ferrara
1998 Poet del "Vedere", Università, Bologna
2008 Un Libro In Maschera Biblioteca Via Senato, Mi.
2011 Poesia Visiva MART, Rovereto
2012 Di-segni poetci, Museo Arte Contemporanea